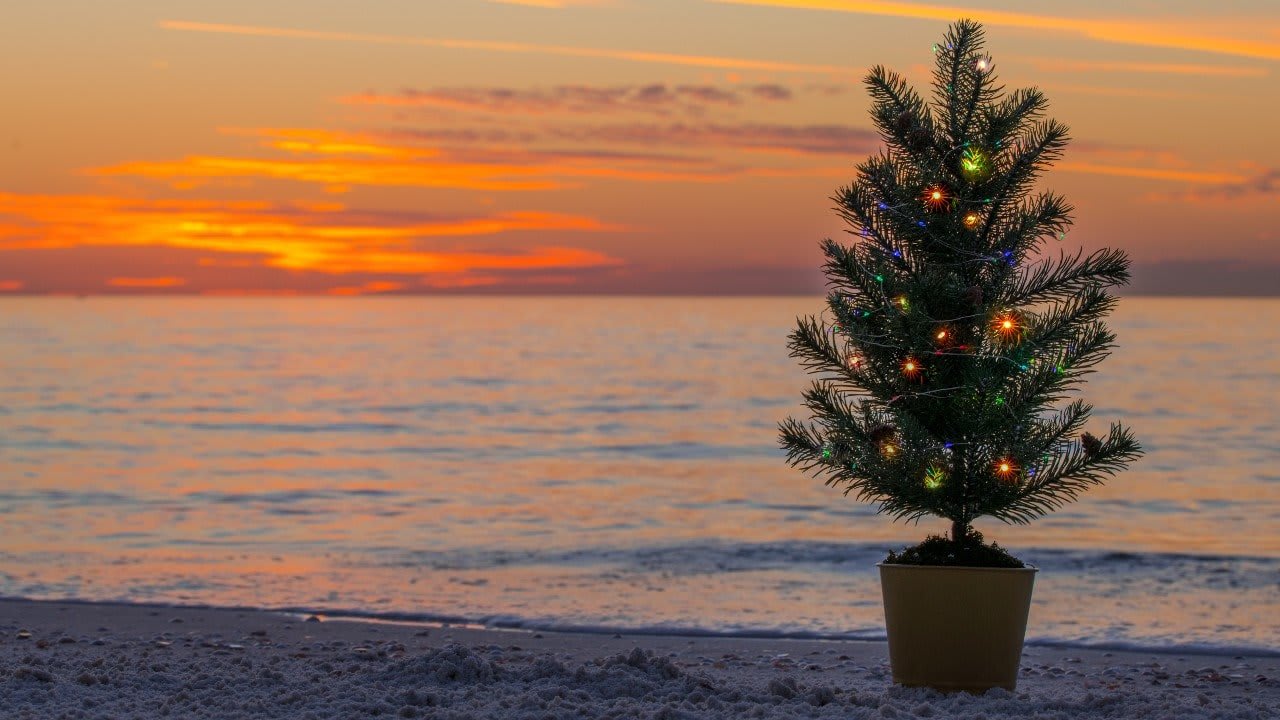 Seasons Greetings from all of us at Live Love 30A! As we enter the holiday season and reflect on the success we've had in the local luxury real estate market, we decided to share in the Christmas spirit by curating a list of the best Christmas experiences in
30A
and
Destin
. From the ornately decorated Christmas trees in
Alys Beach
to the elegant lights of Baytowne Wharf, there are a multitude of options that your family can participate in. Here are some of our favorites:
12 Nights of Lights at Baytowne Wharf
Featured every Wednesday, Friday & Saturday, until Christmas - Located at 9100 Baytowne Blvd. where the luxury homes in this resort combine to make it the ultimate gathering place for locals and visitors alike. This vibrant wharf-side village offers unique shops and boutiques, award-winning restaurants, exciting nightlife and activities for everyone to enjoy.
Christmas Tiki Boats at Destin Harbor
Perhaps an evening cruise in Destin Harbor is more along the line of your preferred activities . Rent a tiki boat and see the decorated homes from the water. The "Harbor Lights" cruise offered by Cruisin' Destin Tikis, decorates their boats in Christmas lights so you are part of the Christmas spirit. On this cruise you will see elegant homes near the Destin Harbor that offer a spectacular view and beautiful sunsets.
Sea Oats Drive 'Candy Cane Lane' in Destin
From December 1st through New Years Eve, neighbors transform their homes along Sea Oats Drive into a magical Christmas light display. The lights come on around dusk and turn off around 10 pm. Park at Cornerstone Presbyterian Church on Beach Drive & Sea Oats Drive and walk the ¼ mile wonderland of lights. This yearly event is just another plus for people who own nearby luxury real estate near the water.
Festival of Trees at Grand Boulevard
The Festival of Trees is an event for everyone to enjoy differently decorated Christmas trees from twelve local, non-profit organizations. This is only one of many monthly activities to enjoy if living at any luxury property in Destin.
Festival of Trees at Grand Boulevard
All the luxury real estate beach towns along 30A have Christmas light displays that can be seen for miles. The towns of
Watercolor
, Alys Beach,
Seaside
, and
Rosemary Beach
have all been uniquely decorated for visitors and locals to enjoy.
If you only have time to visit one town along 30A, it must be Seaside - a town that evokes a simpler time, a refuge from the holiday chaos. From the quaint, artfully decorated post office to the iconic Coleman Beach Pavilion enveloped with thousands of Christmas lights, Seaside IS life lived in a Norman Rockwell painting. Seaside is also the place to see a magical holiday tradition:
Every Christmas Story Ever Told
, a complementary, family-friendly, and non-ticketed event at the Central Square.
Another welcoming town is WaterColor located in
Seagrove Beach
. WaterColor speaks of Southern Christmas with simplicity and grace. It is timeless and authentic. WaterColor's gaslit homes alone create a magical landscape and the stunning Christmas tree in Cerulean Park is breathtaking.
If "Life Defined" is more your style, head to Alys Beach, a seaside community where life feels miles away from ordinary. Every detail in Alys Beach defines luxury, simplicity, balance and grace - including Christmas. Look for the amphitheater to see the eye-catching and brightly colored Christmas tree, topped with a star made of lights.
In Rosemary Beach, check out the Christmas tree at Town Hall as well as the festive palm trees around the fountain at Barrett Square. The businesses on Main Street are charmingly decorated. Rosemary Beach is unique in that homes were masterfully designed in the European colonial architecture of the Dutch West Indies.
Here is a list of restaurants open on Christmas day:
Wine + Beer Events
Emerald Coast Wine Cellars
- located on Scenic Gulf Dr just steps from the powder white sany beach and the emerald green waters of Destin beach. In addition to red, white, seasonal, specialty and holiday gift wines, Emerald Coast Wine Cellars carry
Muscadine
wine, the only wine made from American grown grapes.
NEAT Tasting Room and Bottle Shop
- is a carefully curated bottle shop and tasting room located on Castle Harbour Dr in the luxurious town of Alys Beach. It has artisan spirits, wines, craft beers, handcrafted cocktails, and barware. NEAT introduces small batch producers and locally made items to locals and visitors alike.
Destin Brewery
- A local brewery that won the 2021 Florida Brewery of the Year in the New York International Beer Competition. The craft beer found here reflects the style, flavor, and fun of Destin.
McGuire's Irish Pub
- is a popular watering hole in Destin that has been brewing its own beer for over 25 years. McGuire's has regular bears throughout the year and seasonal beers.
The Craft Bar
- is a gastropub: a bar and restaurant serving craft beer, hand crafted cocktails, and chef-inspired food while focusing on local and regional sources.
Grayton Beer Company
- This is the place to sit, slow down and enjoy fun and laughter. The beer here reflects and complements the 30A way of life.
From our Live Love 30A family to yours, we thank you for making 2021 a year of success in the Destin and 30A luxury real estate market. All our staff constantly strives to bring the highest level of sophistication to all things in the 30A community.