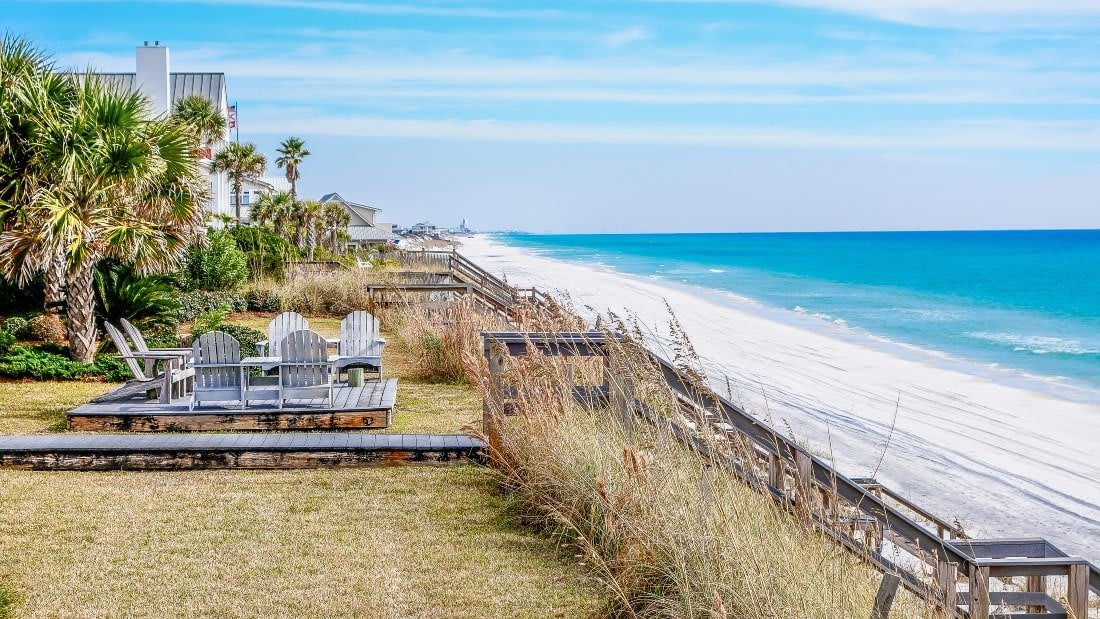 There are so many benefits to owning a
waterfront home in 30A
, from incredible views to easy beach access and the pleasure of enjoying sea breezes from the comfort of your own home. However, waterfront homes require extra effort to keep them in top shape.
Exposure to the elements can take their toll on your Florida waterfront home, so it's important to take steps to protect your home from damage. If you own a beachfront or lakefront home on the Emerald Coast, this checklist will help you stay on top of maintenance so your home retains its value for years to come.
Inspect the Roof
The roof is one of the most important elements of your house and one of the most costly to repair once damage is done, so you want to make sure it stays in good shape. This is particularly true in Florida, where heavy storms, salty air and blazing sun can all cause damage. Inspect your roof at least twice a year to check for missing shingles, leaks and cracks.
Check Windows and Doors
Windows and doors get a lot of traction in Florida homes and they're more susceptible to damage than other parts of the house. At least twice a year you should be checking for cracks or broken seals and making repairs or replacements where necessary. This can also help you cut down on cooling costs.
Touch up Paint and Varnish
The exterior of your home takes the brunt of the damage when it comes to the elements. Decks and paint jobs can warp, crack and peel over time. If you live near the ocean, you'll want to check on the condition of your paint and varnish at least once a year and consider repainting and revarnishing at least once every two years.
Schedule Regular HVAC Maintenance
The air by the beach tends to carry a great deal of sand, salt and fine particles, all of which can wreak havoc on your HVAC system. Once every month or so you should replace your HVAC filters and wipe down any surfaces inside and outside. You should also schedule service checks at least once a year to make sure the system is functioning properly.
Monitor for Mold & Mildew
Florida's Emerald Coast can be very humid, particularly during the summer months when storms roll in. This can cause mold and mildew to grow inside and outside the house. Check decks, surfaces and areas of the home with low airflow for any growth. Wipe down surfaces and try to air out your rooms as often as you can.
Invest in Durable, Weather-resistant Materials
Certain materials just don't hold up in oceanfront climates, so you might want to think about replacing any finishes or patio furniture with something more durable. For example, metal frames will likely rust, so you may want to consider fiberglass frames for windows and doors. Patio furniture should be made with strong weather-resistant materials.