Welcome to Seaside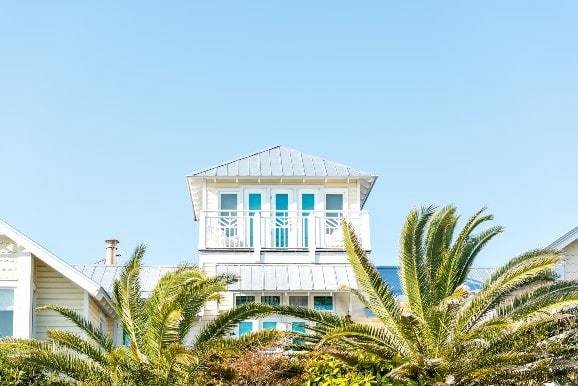 Seaside is a picturesque and charming beach town in the 30A area. It is where the 1998 movie The Truman Show was filmed and a model of New Urbanism, which promotes pedestrian friendly living. Cars are prohibited in the Central Square. At the heart of the town is Airstream Row with airstream food truck trailers lined next to each other. The Modica Market has many gourmet items for all your meals, making it a popular spot for residents who own Seaside, FL real estate. Seaside's beautiful white sand beaches are exclusively reserved for residents only.
Discover Seaside, FL Real Estate
Seaside is a master-planned community that was built in the 1980s. The designers drew on the principles of New Urbanism, which promotes a diverse mix of real estate. In fact, all new buildings in Seaside have to be unique, so you'll find one-of-a-kind single-family homes here.
Seaside real estate includes everything from ultra-modern Gulf-front homes to pastel-colored beach cottages and grand European-style estates on shady streets lined with native trees. Many highly regarded architects have designed homes here, offering their own touch of vision and flair.
Luxury homes in Seaside have all the amenities you could ask for to make the most of this charming beach town. Many homes offer sweeping views of the emerald waters of the Gulf of Mexico and are just steps from the sand. Most have outdoor living areas including patios, decks, and balconies.
Interiors vary depending on the architectural style, but most homes for sale in Seaside have spacious living areas and suites, gourmet kitchens, and modern bathrooms. Other features you might find include:
Lofty staircases
Elevators
Fireplaces
Stainless steel appliances
Outdoor kitchens
Wine cellars
Screened porches
Swimming pools
Guest cottages
There are just over 300 houses in Seaside, so
luxury homes for sale in Seaside
don't come up often on the market. When they do, they tend to get snapped up fast. This is because of the uniqueness of the homes, the stunning location on the Gulf of Mexico, and the welcoming atmosphere of this small beach town.
Seaside real estate is a great investment, as people flock to the area during vacation season and are willing to pay top dollar for vacation homes. Of course, you may just fall in love with the relaxed, yet sophisticated coastal lifestyle here and decide to live in your Seaside home year-round.
About Seaside, FL
Once just a parcel of grassy land set back from a strip of white sand on Florida's Emerald Coast, Seaside is now a marvel of New Urbanism design. The striking mix of architectural styles and stunning beach draws people from all over the world.
Robert S. Davis inherited the land from his grandfather in the 1970s and began planning the community in the 1980s. Davis and his wife Daryl teamed up with renowned architects Andrés Duany and Elizabeth Plater-Zyberk to create the town as we know it today.
One of the principles of New Urbanism is environmentally-friendly, walkable neighborhoods, so Seaside features a series of wide streets that radiate out from the beach. There are plenty of open spaces throughout the town for strolling and socializing. Native trees and plants add a touch of natural heritage.
Seaside's stunning Emerald Coast real estate and beautiful location has earned it many accolades. Travel + Leisure magazine named Seaside as the site of the "Best Beach on Earth" for families. The town was also the main filming location for the movie The Truman Show starring Jim Carrey.
Seaside real estate is easily accessible from other cities along the Florida panhandle and beyond.
Destin
is about a 45-minute drive away on the US-98 E.
Rosemary Beach
and
Miramar
are about 20 to 30 minutes by car depending on traffic.
What to do in Seaside, FL
Seaside may be a small town, but there are plenty of ways to fill your days with shopping, dining, community events, and outdoor activities. The town is home to numerous boutiques, restaurants, cafes, and art galleries. The pedestrian-free streets make it easy to walk, jog, and cycle around town.
Of course the beach is the main draw, making this the ideal spot for those who love the sun, sea, and sand. The Seaside beach is private and only for residents who own 30A real estate here, although visitors can rent a cabana. Popular activities include swimming, and strolling the beach at sunset.
If you get hungry, head to Airstream Row at the entrance of town where you will find Airstream food truck trailers serving up fresh juices, gourmet hot dogs, BBQ, and more. Popular restaurants in town include Bud & Alleys on the waterfront, the Great Southern Cafe, and Amavida Tea & Coffee.
If you prefer to eat at home, you can visit the Modica Market for cheeses, meats, coffee, wines, and gourmet to-go meals. The Seaside Farmers Market takes place every Saturday and brings together vendors selling fresh local produce and artisan products.
Seaside also hosts a number of events throughout the year. The Repertory Theater offers regular performances and is the only professional theater on the Emerald Coast. The Central Square has is a great gathering spot for family movie nights, food festivals, and concerts.
Schools in Seaside, FL
The Seaside Neighborhood School is set in a classic two-story white building on Seaside's Lyceum lawn. It was Florida's first charter school and it serves students from grades 5 to 8. The school is highly ranked in the state and only accepts a limited number of students each year.
Students from grades 9 to 12 can attend the Seacoast Collegiate High School on the campus of Northwest Florida State College. The focus at the school is post-secondary opportunities, so high school students have the option of graduating with an associate college degree.
Families with younger children can choose from a number of elementary schools in Walton County. There are several public elementary schools as well as private Christian schools, Montessori schools, and project-based schools.