The sugar-white shoreline of Florida's 30A beach town area is a swath of 26 miles running along the Gulf of Mexico. Silky white sand, jewel-toned waters, and tranquil sea air define this tropical paradise, as do the stunning and breezy architectural designs.

Located in Florida's panhandle, the scenic 30A highway cuts right along the coast and boasts a paradisiacal collection of beach towns and master-planned communities. Once known as Old Florida State Road 30, which meandered down from Alabama for over 200 miles, 30A developed out of a desire for slower, more scenic routes. Alternative routes were formed, and today, the coveted area of 30A comprises pristine beaches, charming towns, and an impressive display of globally inspired architecture.

The beach towns and buildings along 30A were carefully planned to fully incorporate the beauty and serenity of this waterfront locale. With a mix of posh amenities, luxury estates — especially Rosemary Beach real estate — and relaxed elegance, 30A has gained a reputation as Florida's best-kept secret and most coveted destination.
The influence of New Urbanism
The communities of 30A are special for several reasons, not the least of which is their innovative layout. Most towns in the area were thoughtfully planned with a New Urbanism approach. New Urbanism is an urban design movement promoting high walkability, vibrant town centers, and a community-centric lifestyle. Housing and shopping are within walking distance of each other, and beautifully designed public spaces are in close proximity, encouraging a community connection and environmentally friendly habits.

This deliberate planning and developing approach is based on cities of old — communities built before the advent of cars, when townspeople needed to access shops, visit neighbors, and enjoy recreation all within a reasonable walking distance. But once the automobile became commonplace, a new town model emerged. Streets widened, neighborhoods expanded, and development stretched beyond city limits, creating suburbs and greater distances to travel. Cars became second homes, and commutes became the norm. New Urbanism, created by 30A developers Robert and Daryl Davis, represents the idea that people yearn for those days of easy connection, leisurely bike rides to work, and the relaxation that comes with having everything at your fingertips.

Today New Urbanist designs define most 30A towns, from Rosemary Beach houses and Seaside homes to Alys Beach and Watercolor. The area embraces this old-fashioned connectivity and infuses wild beauty and lavish amenities into the mix for a dazzling blend of coastal perfection.
Architectural styles
Known for white sandy beaches and brilliant blue water, 30A is a bastion of coastal beauty. Estates here boast a bevy of architectural styles, from classic Dutch West Indies and Key West looks to Mediterranean influences and inspiration from the islands. Here's an overview of 30A's most significant styles.
Dutch West Indies
The Dutch West Indies style suits Florida perfectly. Whimsical charm meets casual elegance in this warm architectural approach. The Dutch had a strong influence on the islands of the Caribbean, especially in the architecture and structures of Curacao, a Dutch Caribbean island. As with most island or warm climate architecture, buildings in the Dutch West Indies design feature clean white stucco exteriors, large windows, and outdoor spaces. The Dutch West Indies design is much more relaxed than the rigid British West Indies flair, which includes strong, straight lines. The Dutch style offers a laid-back, romantic feel, with gables of scalloped parapets and Colonial bronze.
Bermudan
Bermuda's airy style perfectly suits the coastal life. The quintessential white-stepped roof was created as a solution to Bermuda's freshwater problem, and today, it stands out as one of the style's most identifying features. Equally well-known is the delightful Bermuda pink, which was employed to mimic the area's natural flora. As with most island-specific designs, the Bermuda architectural approach includes elements to highlight the gorgeous weather and surroundings. Wrap-around porches, verandas, and top-hung shutters all play prominent roles, while the famous 'welcoming arms' staircases invite residents into the breezy lifestyle.
Key West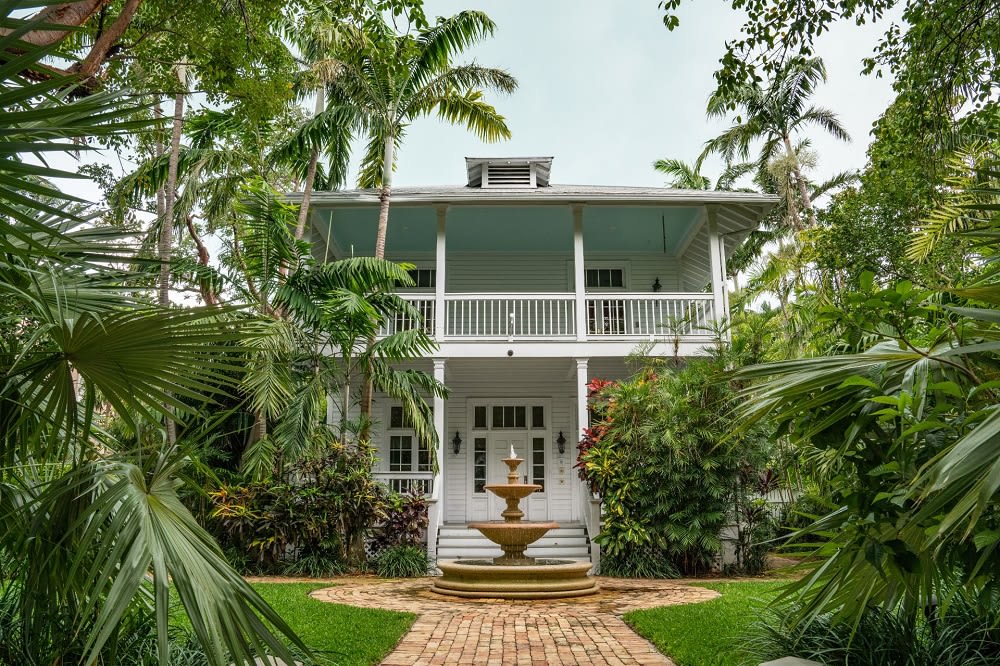 Photo courtesy of Unsplash

Effortlessly blending classic and modern designs, the Key West architectural style reflects Caribbean influences. Known for cheerful pastel exteriors, covered front porches, and louvered window shutters, this airy design is perfect for seaside living. High ceilings and large windows invite fresh air, while the two-story verandas set the scene for lounging and soaking in the balmy climate.
Modern beach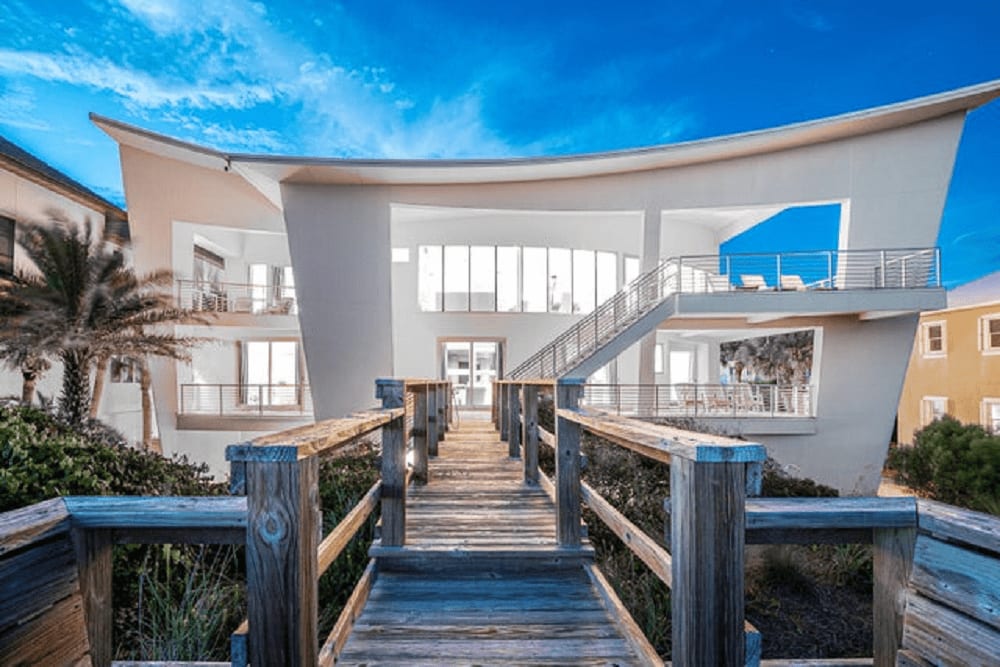 Photo courtesy of Live Love 30A | Destin team, brokered by The Premier Property Group

Architects with modern sensibilities have a lot to work with. For modern beach homes, the whole is more than the sum of their parts. Arched porticos and driveways draw the eye up. Their colors, often bright white, are chosen to harmonize with the electric blue of the sky. Beachfront properties also often have watercolor accents, like teal shingles or a bold front door. Exterior and interior design blend and complement one another through immense windows and long sightlines evoking the Gulf horizon.
Architecture in action
The idyllic area of 30A features a seamless fusion of these classic styles. Rosemary Beach houses shine with Dutch West Indies designs like parapet roofs, lofty ceilings, and expansive porches. Rosemary Beach real estate has been carefully created to catch cool ocean breezes and the warmth of Florida's buttery sunshine. Rosemary Beach leaves the whimsy to other towns and leans into a more serious look while also adopting aspects of St. Augustine and New Orleans. Alys Beach offers an exotic beauty and a nod to the coastal estates of Mykonos, while the cottages of Grayton Beach indulge in true
vernacular architecture
. Seaside's influential style is a mix of traditional, modern, and Key West, with a loving dash of Grayton and Seagrove Beach elements. Wherever they find inspiration, these 30A coastal towns dazzle with perfectly orchestrated lines and delightful designs.
Are you interested in exploring 30A
communities
, Seaside real estate, or homes for sale in Rosemary Beach? Contact luxury specialist
Elizabeth Boswell
at
LiveLove 30A
| Destin team, brokered by Premier Property Group, to find your dream home today.