Paint makes a major difference in how welcoming and elegant a home is. Not only does it affect the look of each room, but it has a major impact on the feel, since a well-painted room can appear more spacious, open, and bright. If you're still trying to decide which paint colors you'll choose for your home, this article will walk you through a few of the most important factors to consider. From Seaside homes to Blue Mountain Beach and Rosemary Beach, the 30A area is full of gorgeous colors reminiscent of the coastal landscape, with alluring neutrals and sea-focused colors.
So, if you're looking for a design overhaul, read on for some top tips and greater detail on specific colors and shades to include or avoid.
White – Yes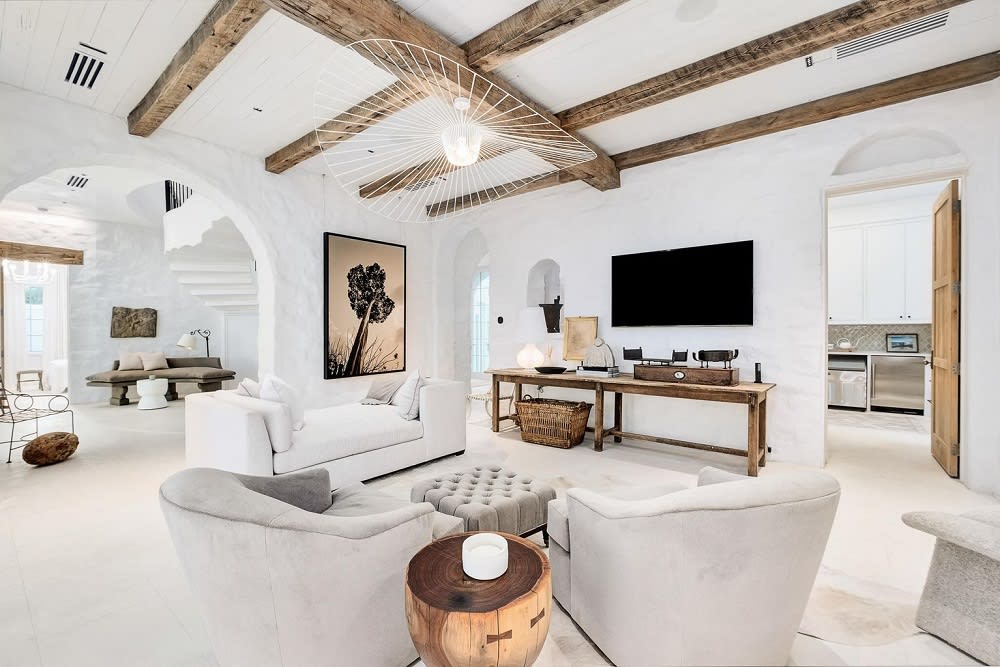 Photo courtesy of FlexMLS
At first glance, white might seem like a boring choice. However, white is timeless and sophisticated and works well with any style. White helps rooms appear bright and fresh and pairs nicely with modern and traditional settings.

When you decorate on a pure white wall, you have a blank canvas that you can design however you like, and your decor options are nearly limitless. Warm white has a slight hint of gray and is a popular choice for trim. Gray-green-white works well in rooms with plenty of natural light, as it offers a crisp look. Enhance the design by contrasting white walls with natural wood flooring or by modernizing your brick or stone fireplace.
Beige – Yes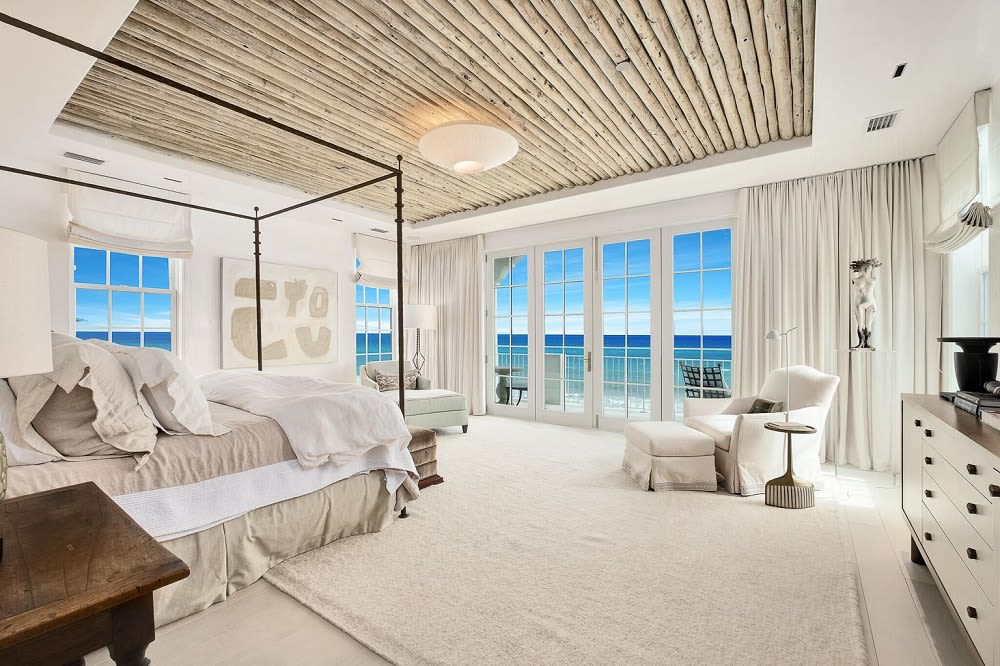 While there are plenty of benefits to choosing white, many homeowners prefer the warmer tone that beige offers. Beige usually pairs well with darker woods like cherry and mahogany, thanks to its rich undertones. Greige (a combination of gray and beige) is another neutral color that many homeowners include in their designs. Consider using beige to touch up lighter wood. Stay away from builder beige if you can, since this color often makes rooms appear darker. Whale gray is a similar color that doesn't produce this darkening effect.
Gray – Yes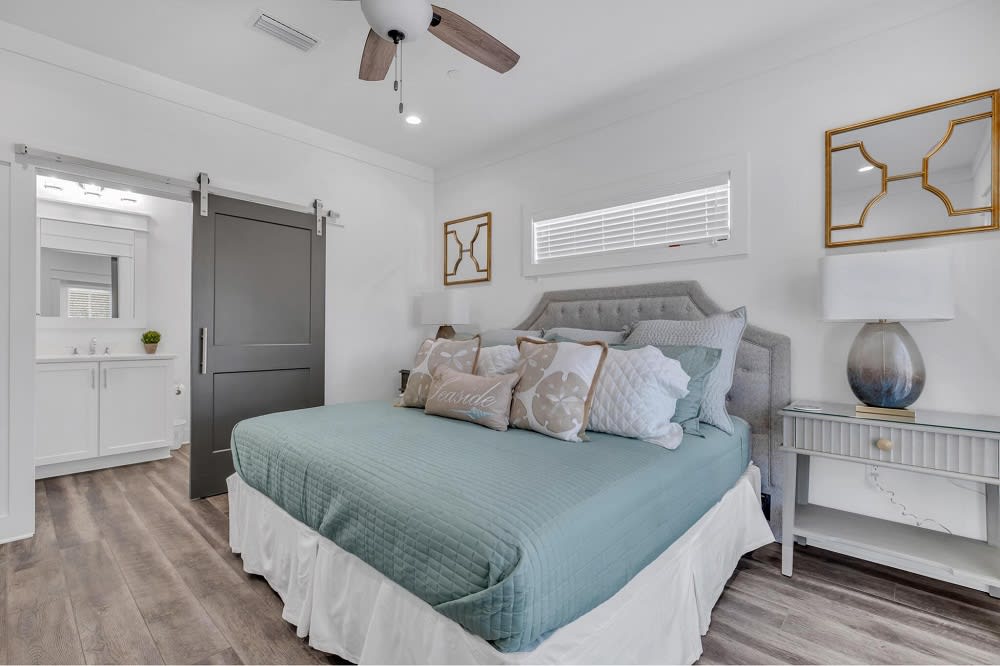 Photo courtesy of Live Love 30A | Destin team, brokered by The Premier Property Group
Gray is hot right now, and it may soon surpass white as the top choice for interior designers. With a variety of shades to choose from, you can easily layer multiple colors onto each other. Grays with hints of blue or green can be an excellent complement to brown furnishings and wood floors. Darker gray can make a bolder statement while serving as a backdrop for antiques and more vintage furnishings. Dark gray paired with white creates a stunning look that draws the eye with a universally appealing palette.

Light gray is popular in the warm Florida climate because it can provide a cooling effect. It promotes a relaxing atmosphere and softens the ambiance in the room. Gray paint can also hide flaws on the wall that would otherwise stand out. Using white with black or gray accents (or vice-versa) is a fantastic way to create intrigue and a modern appeal within the space without using an overly bright color.

Soft gray is a popular alternative to neon, which is currently in style but doesn't always translate well. While neon can be a little too bold, soft gray promotes a more serene environment. Another popular option is Wickham gray. This cool-toned shade uses undertones of blue to create a soft, appealing look that pairs well with white tones.
Blue – Yes
With stunning vistas of the Gulf of Mexico out the windows, many Seaside luxury homes make use of blue shades throughout their interior designs to bring the coastal vibes inside. Blue is generally considered a crowd-pleaser, and it's a safe choice for anyone who wants to try a color that isn't neutral. Many people name blue as their favorite color, so it shouldn't come as a surprise that blue styles are often in fashion.

Blue pairs well with most wood tones and offers enough flexibility to help you quickly transition from one style to the other. Consider darker shades when painting your cabinets, and go with aqua blue if you want a more energizing effect. Navy with brushed or rose gold accents pairs well with white walls and creates a beautiful, sophisticated look.
Green – Yes
Green doesn't sit too heavy and pairs well with medium and dark wood tones. It's highly versatile, so you can use green with a variety of traditional and modern design styles in bathrooms and kitchens. Green often makes rooms feel more soothing and relaxing, so it can be an excellent color for your bedroom as well. Don't use lime green because it has a tendency to hold too much light, and it can overwhelm you. A darker green is a better choice.
Red – No
Avoid red, as it tends to evoke an emotional reaction because it's the color of blood, and your brain associates red with danger. Red commands attention, which is why stop lights and stop signs are red. Further, because red can cause your heart rate to speed up, this probably isn't the feeling you want to have in your Seaside home where you want to relax. If you're set on having some amount of red in your room, use it in small doses and pair it with a calmer color for a less jarring effect.
Purple – No
Purple is the color of royalty, but it's not a great color for your walls, especially in your bedroom. Studies have shown that purple is a poor color for a bedroom because it doesn't facilitate a good night's rest. In some cases, purple walls can even invoke nightmares. People sleep less, on average, in rooms with purple walls.
Pink – No
Using pink as an accent color is fine. However, because pink tends to take over a room, you can easily overdo it. If your entire room is pink, it will be hard to notice any of the other decorations or style pieces in the room — only that you're in a pink room.
Once you choose the right paint colors for your home, you'll notice an immediate difference, and you may start to wonder what kind of price your home might command on the market. If you're thinking about listing your home for sale, let one of the talented agents on the
Live Love 30A | Destin team
, brokered by The Premier Property Group, help you with the process. They know how to effectively market and stage Seaside houses to sell quickly, and they can help you earn the best possible return. Contact the team today to get started.
*Header photo courtesy of FlexMLS