Blue Mountain Beach
sits about halfway between Destin and Panama City Beach. It's a popular destination for beachgoers and lovers of fine food, and the market for Blue Mountain Beach real estate always seems to be hot. The area has many delicious restaurants that attract both locals and tourists. Make plans to enjoy lunch or dinner at one of these top choices the next time you spend a day in the area.
Mimmo's 30A
2100 Village Blvd
Santa Rosa Beach, FL 32459
For authentic Italian flavors and exquisite foods in an atmosphere reminiscent of Italy, don't miss the up-and-coming
Mimmo's
30A location. This popular dining spot, which branched off from the original Destin location, offers an array of dishes and desserts in a new location. Menu standouts include Mimmo's famous Italian garlic rolls, Mediterranean salad topped with walnuts and feta cheese, meatball sandwich, the Sicilian sandwich with grilled chicken and red peppers, and Mimmo's famous pizza. Plus, they offer an extensive wine and cocktails list alongside a dessert menu of Italian ice cream, cheesecake, Nutella pizza, and tiramisu.
Basmati's Asian Cuisine
3295 W County Hwy 30A
Santa Rosa Beach, FL 32459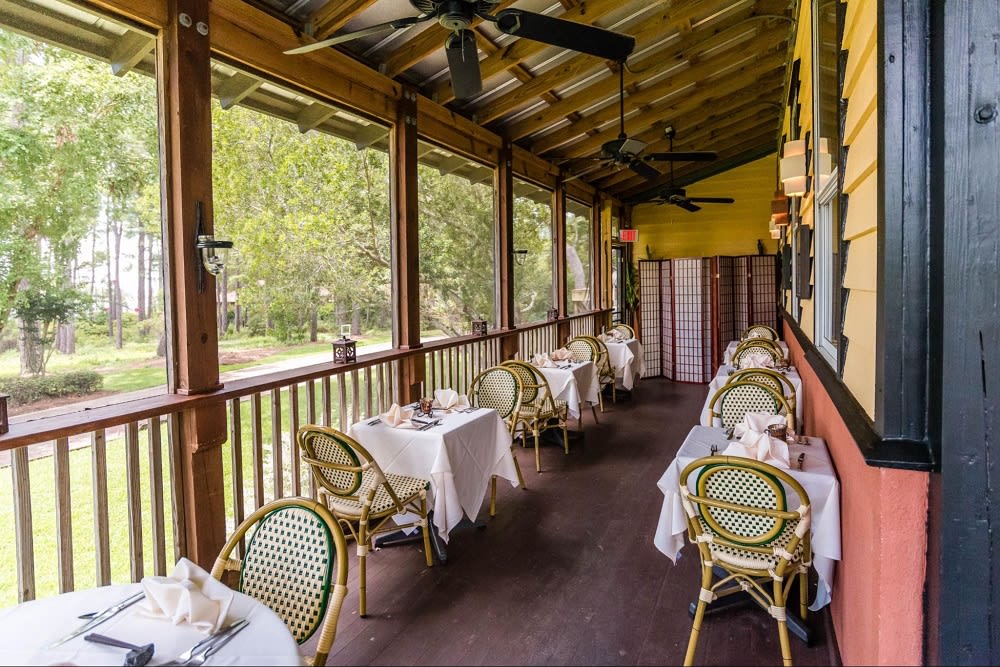 Photo courtesy of Basmati's Asian Cuisine
Looking for fresh sushi near the coast? For over 20 years,
Basmati's Asian Cuisine
has never disappointed. With locally-sourced fish and produce, Basmati's Asian Cuisine creates a delectable, Asian-inspired menu of fantastic foods. Popular menu selections include crab cakes, truffled tuna rolls, spicy crunchy shrimp, sweet and spicy pork tenderloin, vegetable lo mein, and rack of lamb. The atmosphere in the candlelit dining area is relaxed, elegant, and friendly, and you can take your meal outside to enjoy the stunning lakeside views and towering pines as you dine.
The restaurant is closed Sunday, but they are open Monday through Saturday for dinner between 5 p.m. and 10 p.m. They have an excellent wine selection, and they also serve beer and sake. To guarantee that you can have a seat, reservations are recommended, and you can make your reservation by calling the restaurant directly.
Blue Mabel Smokehouse & Provisions
2260 W County Hwy 30A
Santa Rosa Beach, FL 32459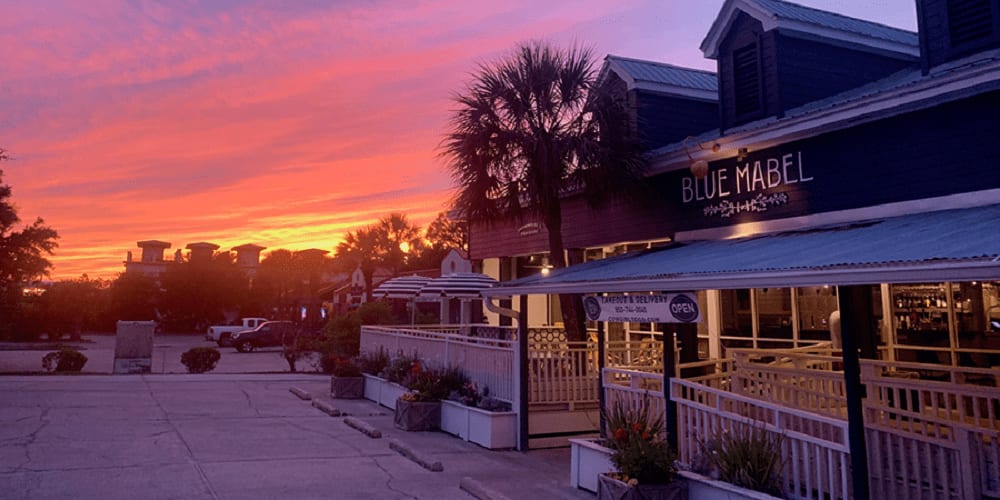 Photo courtesy of Blue Mabel
Everything at
Blue Mabel Smokehouse & Provisions
is made from scratch, including the slow-smoked meats. If barbecue isn't your thing, perhaps you'll enjoy the shrimp and grits or the island-grilled skin-on salmon. They offer several daily deals, including a Taco Tuesday special and happy-hour priced wings during any SEC college football game on Saturday. They serve dinner daily, and you can also join them for brunch on Friday, Saturday, or Sunday.
Johnny McTighe's Irish Pub
2298 W County Hwy 30A
Santa Rosa Beach, FL 32459
Approachable and family-friendly,
Johnny McTighe's Irish Pub
serves up drinks and delicious eats seven days a week. Diners have the option of choosing between outdoor and indoor dining, or they can also take their favorite menu items to-go. As a first-time visitor, be sure to try popular dishes such as the McTighe's Award Winning Wings, Smoked Gulf Tuna Dip, Fried Blue Crab Claws, and the Fish 'N Chips.
Blue Mountain Bakery
2217 W County Hwy 30A
Santa Rosa Beach, FL 32459
Blue Mountain Bakery
's goal is to bring a strong sense of community and pride to anyone who visits Blue Mountain Beach. They use fresh and high-quality ingredients to craft delicious cinnamon rolls, muffins, and scones — all of which taste best with a cup of their tremendous drip coffee. If you prefer a savory option, try one of their frittatas or quiches, or grab a turkey wrap to go. They are open from 7 a.m. to 2 p.m. on Monday through Saturday. Stick around to enjoy the patio if you have time.
Red Fish Taco
2052 W Country Hwy 30A
Red Fish Village, Blue Mountain Beach, FL 32459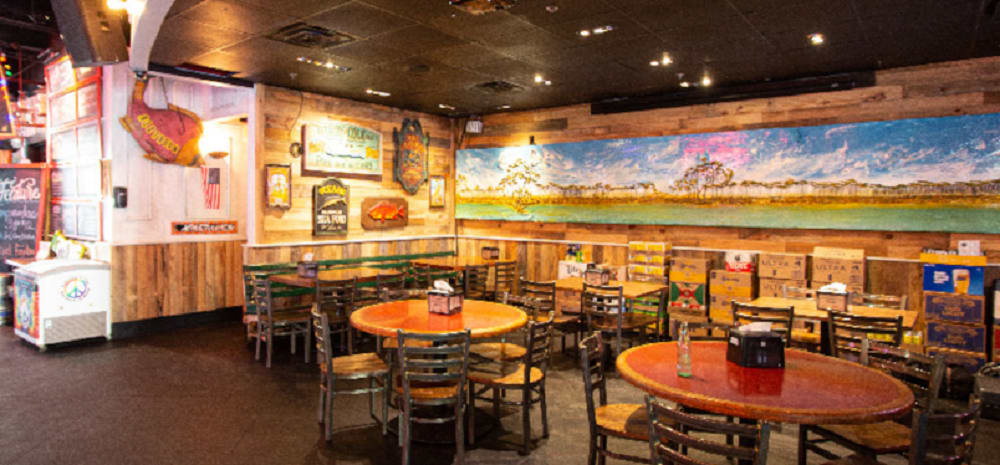 Photo courtesy of Red Fish
TacoIf it's spectacular shrimp, fish, or smoked beef you're after, look no further than
Red Fish Taco
. This lively dining spot features a fantastic menu of fire-roasted salsa, taco salad with tortilla bowl topped with grilled shrimp, chicken and cheese quesadilla, crispy street tacos, pressed chicken carnitas, redfish tacos, and much more. There's even a "small fry menu" for the kids to enjoy. Plus, don't miss the dessert menu with fresh cookies or key lime pie.

Special events include a happy hour on select nights, Monday night football with firecracker shrimp tacos, and more. Red Fish Taco also offers a to-go bar with an assortment of tacos and salads alongside a catering menu. And, the diner is also a lively spot to catch a show, as it frequently hosts live music events from local talents like Forrest Williams Band. One thing is for sure: you won't walk away hungry!
Blue Mountain Beach Creamery & Shake Shop
2129 S Co Hwy 83 B
Santa Rosa Beach, FL 32459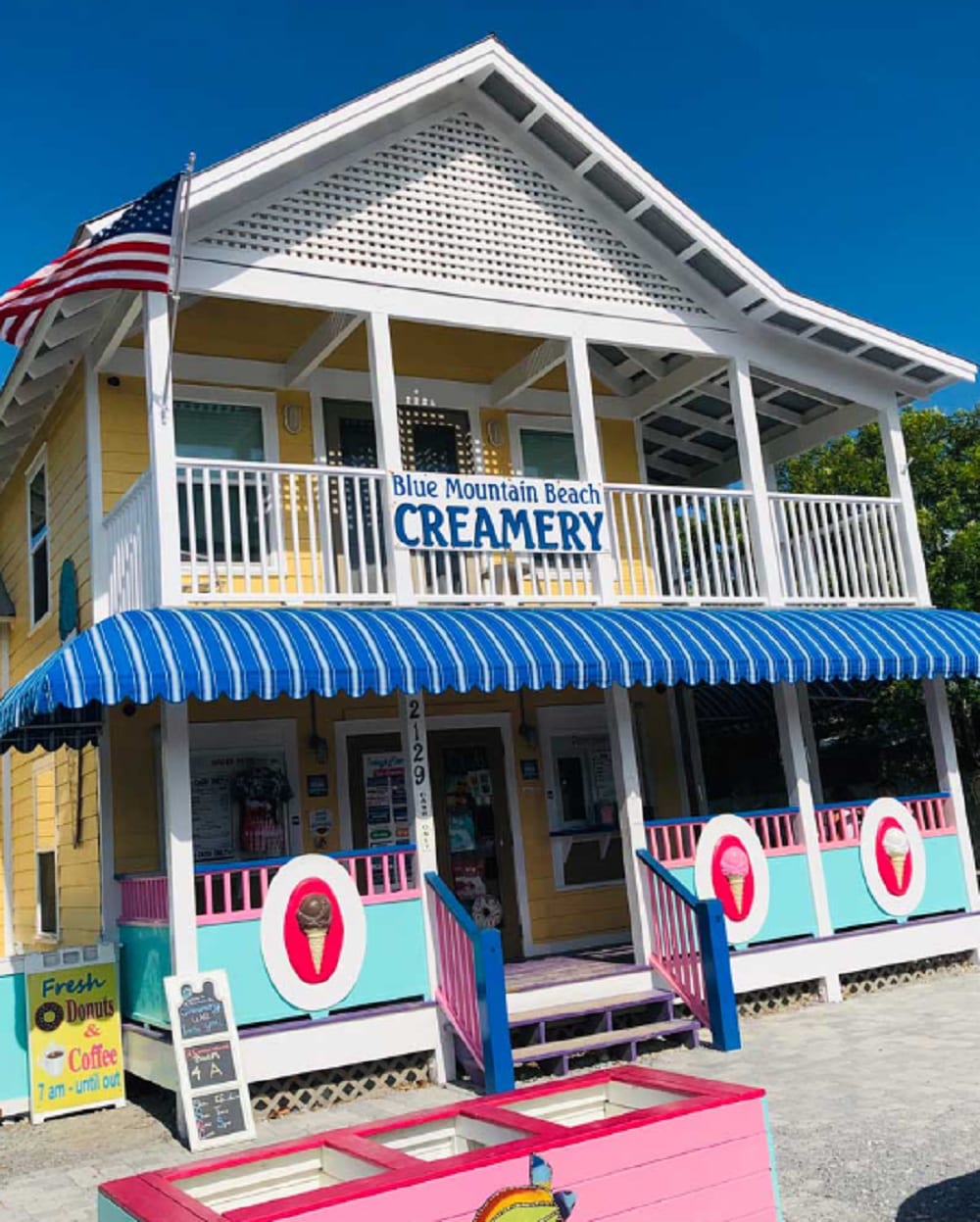 Photo courtesy of Blue Mountain Beach Creamery & Shake Shop
If you have a sweet tooth, head to
Blue Mountain Beach Creamery & Shake Shop
for fantastic flavors of homemade ice cream, sorbet, and yogurt. This family-operated, pleasant spot is popular for beachgoers aiming to cool down after a day in the sun and sand. The Creamery serves ice cream with waffle cones, frozen yogurt, and sorbet, while the Shake Shop is found behind The Creamery and offers donuts, milkshakes, coffees, shaved ice, and frozen custard. Don't miss this sweet little shop!
Once you experience all that Blue Mountain Beach has to offer, you may start thinking about purchasing Blue Mountain Beach real estate so that you can immerse yourself in the 30A culture on a regular basis. If that urge hits, reach out to one of the talented agents on the
Live Love 30A | Destin team
, brokered by The Premier Property Group. This top-tier team has extensive knowledge of the market and the best communities in 30A. They would love to partner with you!

*Header photo courtesy of Unsplash